Aging is inevitable, but that doesn't stop us from trying to slow the process down or at least look good doing it! There are so many products available which is great, but it also makes it hard to navigate. What products are the best and most effective? Don't exasperate those worry lines, that's where we come in!
As we get older, our skin is often the first place it shows, so maintenance is important. Aside from wearing sunscreen and moisturizer, certain foundations can provide hydration and hide flaws. We also don't want to speed up the aging process by using products that are harmful to our skin. The foundations on this list will provide great coverage while protecting the skin and preventing creases and fine lines.
You should also check out our article on Anti-Aging Moisturizers for Senior Women.
Want senior content delivered straight to your inbox? Sign up for our exclusive email list and receive articles and news on diet & nutrition, fitness, and mental health dedicated specifically to our senior audience!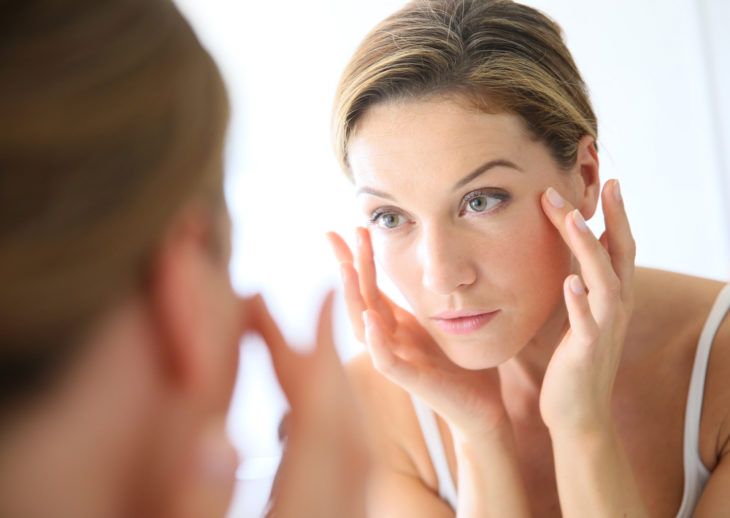 1. It Cosmetics Bye Bye Lines Foundation
Bye bye lines, hello smoother and younger looking skin! While the name says it all, we'll tell you a little bit more about this foundation and why it's so good for anti-aging. Bye Bye Lines Foundation by It Cosmetics acts like a serum because it contains 10 youth-enhancing properties like peptides, collagen, argan oil, caviar extract, and hyaluronic acid as part of its anti-aging formula. These ingredients will help plump the skin while also making it more firm.
This tinted foundation applies like a moisturizer leaving the skin smooth and glowing. It gives great coverage and protection with an SPF of 50, but unlike other foundations, it never settles into those fine lines or wrinkles that come with aging. It also contains pure color pigments that help disguise any fine lines or wrinkles. You can purchase It Cosmetics Bye Bye Lines Foundation for $38 at Itcosmetics.com.
2. Neutrogena Hydro Boost Hydrating Tint
If you're just looking for something light and hydrating, then the Neutrogena Hydro Boost Hydrating Tint is the perfect option. It works wonders on dry, dull skin because it offers as much hydration as a moisturizer, but also provides lots of pigment tint that can even out complexion. This foundation will quickly become an everyday necessity.
As we age, our skin loses its ability to stay naturally hydrated, so the hyaluronic acid formula in the Neutrogena Hydro Boost Hydrating Tint acts like a nice refreshing glass of water on a hot day for aging skin. Similar to the Bye Bye Lines Foundation, the Neutrogena Hydro Boost won't settle into any fine lines or wrinkles. Instead it plumps the skin and keeps it moisturized all day long. If you keep using it, you'll notice your skin become more soft and supple. You can purchase this foundation on Amazon for $14.
3. Charlotte Tilbury Magic Foundation
A little bit of magic is exactly what we're looking for when it comes to fighting off aging! Putting the word 'magic' into the name of a foundation is pretty bold, but Charlotte Tilbury's foundation provides the results to back it up. The biggest benefit of this foundation is that it contains a firming mushroom extract, as well as the hydrating hyaluronic acid. This is a substance that is naturally produced by the body, says Healthline. It helps our skin retain water so that it remains well lubricated and moist.
The amount of hyaluronic acid in our skin decreases with age and as our body is exposed to things like ultraviolet radiation from the sun and pollution. The Magic Foundation provides a much needed boost of hyaluronic acid so that the skin remains well hydrated as we age. According to Healthline, hydrated skin is important to reduce the appearance of wrinkles and help the skin appear smoother. "When applied to the surface of the skin, hyaluronic acid serums can reduce wrinkles, redness and dermatitis."
Charlotte Tilbury's Magic Foundation can be purchased at Sephora for $44.
4. Estee Lauder Perfectionist Youth-Infusing Serum Makeup
One of the most important things we can do to protect our skin from aging prematurely is to wear sunscreen every day. You should always make sure that you're wearing sunscreen either underneath your foundation, or that you're wearing foundation that contains SPF 25 protection. This is one of the reasons that Estee Lauder's Perfectionist Youth-Infusing Serum Makeup is so amazing. This anti-aging serum-infused foundation keeps the skin looking radiant and glowing by improving the appearance of fine lines and wrinkles, while also boosting hydration and protecting it from the harmful effects of the sun. You can purchase this foundation at Sephora for $48.
5. L'Oreal True Match Super-Blendable Foundation Makeup
There's a reason L'Oreal has become one of the most popular drugstore foundation brands — it's super affordable (it costs just under $10) and appeals to a wide variety of women. L'Oreal True Match Super-Blendable Makeup says it all in the title. It's super-blendable and can match just about any skin tone with over 45 shades in the collection that range from neutral, to cool and warm undertones. You're almost guaranteed to find the one that is perfectly suited to your skin tone.
It also provides medium buildable coverage, vitamin E and pro-vitamin C that can help hydrate and nourish the skin. Still need more convincing? This foundation has over 750 reviews online with a 5-star rating. The people have spoken, and it's a crowd favorite. It's available at most staple drugstores, but can also be purchased online for only $8.99 at Bed Bath & Beyond.
6. Covergirl + Olay Simply Ageless 3-in-1 Foundation
This combination foundation is the perfect cocktail for healthy aging. Two of our favorite drugstore brands, Covergirl and Olay teamed up to create this 3 in 1 liquid foundation that provides medium to high coverage, with special ingredients like green tea and vitamins B and E. There's a reason this foundation has been around for so long — it works. The Simply Ageless foundation was created from a formula that combines niacinamide, an anti-aging strain of vitamin B3, and vitamin E to minimize and prevent skin damage.
Instead of feeling heavy and cakey like most foundations, this one is light and airy, but it still offers great coverage and is pigmented enough to act as a concealer. It also comes in a nice round compact case that is perfect for traveling. You can purchase this foundation at Target for $11.
7. Chantecaille Future Skin Foundation
If you suffer from oily skin then this foundation is the way to go. It's oil-free, light, and airy so it doesn't feel heavy on the skin or clog up pores. Chantecaille's Future Skin Gel Foundation contains 60-percent charged water which provides amazing hydration and moisture. It has pigments that can adjust coverage from medium to full in order to hide any of those unflattering blemishes that pop up from time to time, as well as fine lines, or hyperpigmentation. This foundation can also help soothe sensitive or irritated skin because it contains botanicals. Chantecaille Future Skin Foundation is available for $78 at Nordstrom.