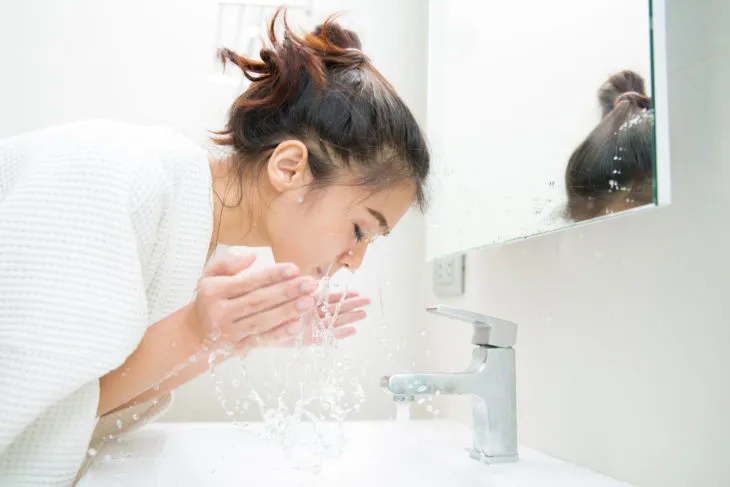 The struggle is real for people with sensitive skin who are looking for a good face wash that won't irritate their skin, especially since most products contain an array of different ingredients. This makes it hard to pinpoint what exactly their skin is reacting to. Thankfully, many brands now gear their products toward all skin types, including sensitive skin. Because some companies do a better job than others, we're here to help those who are still trying to find that perfect product for their skin. We've done all the leg work for you and compiled a list of the best face washes for people with sensitive skin, as well as where to buy them! Check it out…
1. LaRoche-Posay Toleriane Foaming Cleanser
LaRoche-Posay Toleriane Foaming Cleanser lands on pretty much every list for best face washes for sensitive and oily skin. It's just that good. This cleanser comes in a visually appealing blue bottle that applies like a bottle of soap. It's super easy. Just like any face wash that is geared towards sensitive skin, it's list of ingredients is short. It's only got the bare necessities. This face wash works best for people with normal to oily skin, but is also free of soap, sulfate, fragrance and paraben so it's also safe for sensitive skin — both of which can be difficult to cleanse.
Cosmopolitan notes that most face washes actually contain ingredients that make our skin more oily, this is a result of their intense formulas. LaRoche-Posay Toleriane Foaming Cleanser is unique because it has only mild surfactants, as well as moisturizing ingredients like ceramide and redness-reducing niacinamide. It even contains prebiotics that act like food for the skin! This cleanser may be simple on the surface, but once we dive into the specifics, it's clear this product knows how to roll up its sleeves and get to work. It is able to clean up dirt and oil from the day, in addition to any makeup — even the stubborn waterproof kind! You can purchase this product off Amazon for only $13.
2. Paula's Choice Calm Redness Relief Cleanser
Apparently Paula knows best because Paula's Choice Calm Redness Relief Cleanser is a top pick among beauty experts for people with sensitive skin. It's particularly good for those with rosacea-prone skin because it targets redness and irritation. This face wash takes on a nice gentle approach that helps soothe inflammation. It's made up of a formula that is infused with allantoin and aloe vera, both of which are hydrating ingredients that can improve skin barriers. If you're interested in trying this product, hop on over to skinstore.com where it's available for $18.
3. Neutrogena Hydro Boost Gentle Cleanser
The Neutrogena Hydro Boost Gentle Cleanser has a partner in crime called the Neutrogena Hydro Boost Gel-Cream. Both work amazingly well, but when it comes to face wash for sensitive skin, the gel cleanser is the way to go. Just like the name says, it boosts the skin's hydration because it contains hyaluronic acid, plus it's created with a gel, so it goes on very smooth, like a cream. This means it also washes off easily and doesn't leave the skin with the same tight feeling that sometimes happens after using other products. It's also fragrance and sulfate-free, so it can remove makeup, oil, and dirt without irritating the skin. According to Cosmopolitan, it won't clog up your pores because it's non-comedogenic and it works as it should on any and all skin types. This cleanser is available in most drug stores, but the best price is through Amazon at $7.19 a bottle.
4. Cetaphil Gentle Skin Cleanser
Cetaphil is a brand that doesn't try to be fancy or trendy because it doesn't need to. The product speaks for itself! It's a popular brand that's known for being reliable and effective. This is no different for the Cetaphil Daily Facial Cleanser. This face wash is made up of a low suds formula that can clean away any any hard dirt and grim from the day without being too hard to the skin and stripping away all of its natural moisture. "Lipid-free [a type of soap-free formula suitable for sensitive skin] cleansing lotions can be used across all skin types, and are especially useful for patients with sensitive skin," says Joshua Zeichner, MD, a board-certified dermatologist and director of cosmetic and clinical research in dermatology at Mount Sinai Medical Center in New York City to Women's Health. "They can be applied and wiped off without even using water."
Not surprisingly, this cleanser is also unscented and noncomedogenic which means it won't clog up your pores. This is super important if you have acne-prone skin. According to Elle.com's Lead Video Producer, Angel Lenise, the antibacterial version of this wash can clear up any unwanted blemishes. Cetaphil Gentle Skin Cleanser is also available in the form of a bar that can be purchased in a pack of 3 for less than $10! You can also purchase it online on Amazon for $23.97.
5. CeraVe Hydrating Face Wash
CeraVe isn't the most trendy cleanser available on the market, but it works. The bottle resembles Cetaphil in a way that it looks very medicinal, but this is an important lesson learned — never judge a cleanser by the bottle! CeraVe Hydrating Face Wash is a fragrance-free, non comedogenic face wash that contains ceramides that strengthen the skin's ability to fight off pollution and other irritants. Instead of containing harsh salicylic acid, it has a gentle chemical exfoliant. It also hydrates the skin in a soft manner with three different hydrating ceramides, which are natural fats found in the skin that help prevent moisture loss. "Ceramides function like grout that help fill in cracks between skin cell 'tiles,'" says Zeichner when talking to Women's Health.
On top of all that, it contains hyaluronic acid that works to draw water into the skin and encourage hydration. You'll have beautiful smooth skin in no time! You can buy this face wash at most drug stores or online at Amazon for $11.99.
6. Fresh Soy Face Cleanser
While this face cleanser is a little more expensive, it's worth every dollar, especially if you're someone who struggles with sensitive, reactive skin. It doesn't catch your attention right away when it's on the shelf, but pretty much any person that tries it once, never looks back. It'll win you over immediately. In fact, multiple sources have stated that this product actually has a bit of a cult following!
Fresh Soy Face Cleanser is made with a gel-based formula that contains glycerin, so it works like a moisturizer to hydrate dry skin. This means it works wonders for dry, sensitive skin. It also contains soy which reduces redness in the face, aloe vera and cucumber to help soothe the skin, as well as sunflower and borage seed oils to prevent the skin from feeling tight. Even though it's a simple cleanser, it also has the ability to also remove heavy makeup. To top it off the Fresh Soy Face Cleanser has this super clean and fresh cucumber scent that's been described as a form of aromatherapy! It's the best way to start and finish the day. It's available at Sephora for $38.
7. Neutrogena Ultra Gentle Daily Cleanser
This is the product I personally use and it works wonders on my sensitive skin. I struggle with both oily and dry skin, so it can be difficult to find a product that combats both problems. First off, there's a reason Neutrogena landed twice on this list. It's one of the most popular brands and most effective. This cleanser in particular is so soft and gentle, it feels like it could be used on baby skin! Developed with patented technology alongside dermatologists, this product is able to clean without leaving any residue behind and doesn't contain any irritants that might cause flare ups for people with eczema, atopic dermatitis, acne, or rosacea.
Neutrogena Ultra gentle Daily Cleanser is soap-free, dye-free, non-comedogenic, hypoallergenic, and contains glycerin. Women's Health talked to Joshua Zeichner, MD, a board-certified dermatologist and director of cosmetic and clinical research in dermatology at Mount Sinai Medical Center in New York City who says, "This cleanser is specifically formulated with hydrophobically modified polymers that prevent the cleansing ingredients from penetrating past the outer skin layer. So you can enjoy the lathering cleanser without experiencing dryness." While it's super effective, the only downside is that it's also a little more expensive than some of the others on this list. However we did find it on Amazon for $8.09.
8. Aveeno Ultra-Calming Foaming Cleanser
There's no better approval than a dermatologist when it comes to fash wash and Aveeno Ultra-Calming Foaming Cleanser has the seal of approval. It's able to work hard at the skin to remove dirt and oil on the face without irritating the skin at all. It blows our mind! The formula for this wash contains a calming feverfew extract, a soy protein that reduces redness in the face, and strengthening amino acids. While this cleanser is geared towards all skin types, it's a popular choice for people with sensitive skin because it doesn't cause any irritation. "Some cleanser designed for sensitive skin contain ingredients that have anti-inflammatory effects," says Zeichner to Women's Health. "Feverfew [which is in this wash] is a botanical extract that can calm inflammation in the skin and help reduce redness." Hop online and grab one off Amazon for only $7.