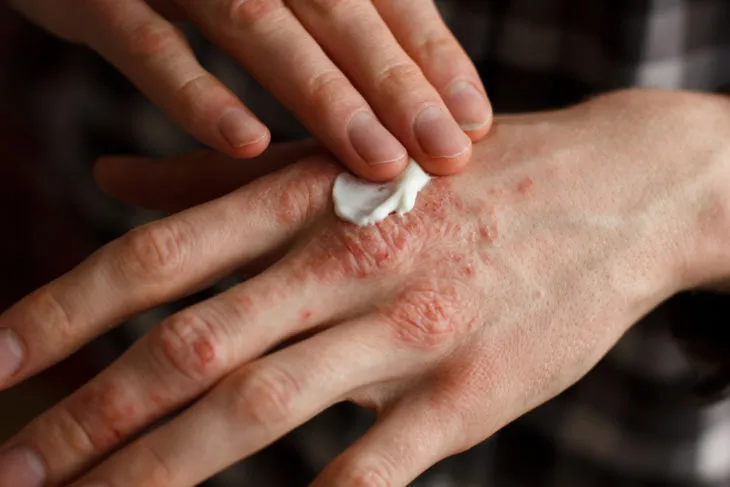 Psoriasis is a disease that causes red, scaly patches of skin, usually on the elbows, hands, knees, or scalp. While this condition isn't contagious, it affects millions of people in the United States alone. It can happen to anyone at any age, but primarily affects people between the ages of 15 and 30. It also occurs equally between men and women.
Most people with psoriasis suffer from uncomfortable symptoms like pain, discomfort, itching, and even burning. These occur alongside the characteristic thick red patches of scaly and flaky skin. Not surprisingly, this condition can be quite distressing to the people affected by it. Nearly 60-percent of people who suffer from psoriasis say it causes a huge problem in their life, particularly for those who suffer from a more severe case. It seems like women and young children struggle the most with the psychological effects of this condition.
Psoriasis doesn't have to control your life. There are ways to manage this condition and coexist with it. The best thing to do is to educate yourself on the various treatment options, including any remedies that might help soothe the symptoms. You should also learn about any possible triggers and try to eliminate them which in turn will help reduce any symptoms or possible flare ups. You may be required to make a few lifestyle changes.
What is Psoriasis?
Psoriasis is a common inflammatory skin condition, but can also affect the joint.
A unique aspect of psoriasis is that it can come and go. Don't be fooled when this condition goes into remission, it's not a matter of will it come back but rather, when. In addition to this, unfortunately psoriasis cannot be cured, at least not yet. But there are many tips and tricks a person can use in order to better manage their symptoms. Some of the most obvious lifestyle changes that can be made are moisturizing more often, quitting smoking, and learning new techniques to help manage stress, explains the Mayo Clinic. While none of these changes will cure this condition, they may help.
One of the most defining characteristics of psoriasis that sets it apart of other skin conditions like eczema is that it grows into thick patches which is sometimes referred to as plaque psoriasis. According to the American Academy of Dermatology, this is the most common form of psoriasis. About 80 to 90-percent of people with psoriasis have plaque psoriasis. However it can come in other forms such as…
Scalp psoriasis forms on the head with itchy, dry patches.
Nail psoriasis causes the nails to weaken and discolor.
Psoriatic arthritis is not as common. It occurs in only about 10 to 20-percent of cases and often results in joint pain, as well as swelling and stiffness.
Guttate psoriasis typically occurs in childhood. It will result in pink spots, most commonly on the torso, arms, and legs. These spots are small and not thick or raised like plaque psoriasis.
Inverse psoriasis causes the skin to become red and shiny, as well as inflamed. These patches tend to form in the armpits, breasts, in the groin, or around the skinfolds of the genitals.
Pustular psoriasis occurs in adults as white, pus-filled blisters. Large sections of the skin will become red and inflamed. This type of psoriasis typically occurs in small, localized areas of the body like the hands or feet. But it can spread further.
Erythrodermic psoriasis is the most severe type of psoriasis and the most rare. It covers large areas of the body at once causing the skin to appear sunburned. The scales are so large that they come off in sheets. People with this type of psoriasis will often become ill during a flare-up and develop a fever. It can be life threatening.
Again, even though there is no cure, there are plenty of treatment options available and things a person can do to reduce their symptoms.