Just because it's winter doesn't mean you have to forgo all things green and good for you! Typically salad for dinner leaves something to the hungry appetite. However, I'm not talking about rabbit food here. I'm talking about hearty, satisfying meal-worthy salads that are not only easy to prepare—they're good for you too.
And you don't have to stick with the lowly leaf lettuce, you can create your own salad base with any vegetable you like, or you can really make it filling by adding leftover pasta, rice, couscous, or quinoa.
Here are 10 light salads that eat like a serious meal…
Grilled Scallop & Strawberry Salad
Grilled sea scallops (yeah, the big ones) are not only tasty; their also an excellent source of healthy omega-3 fats. Succulent and juicy, these scallops are herbed to perfection, served over tasty mixed greens and strawberries, and drizzled with a flavorful herb-infused dressing. Plus, if you're not a fan of scallops, you can substitute them with grilled shrimp or a salmon filet.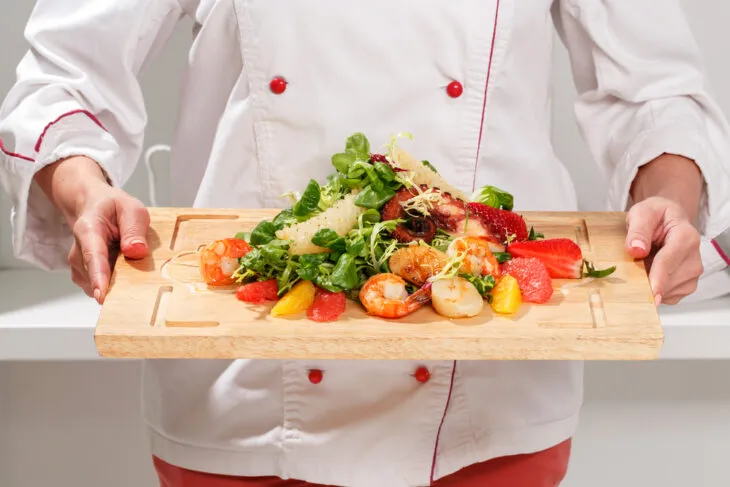 Recipe:
1 pound sea scallops
1/2 cup olive oil
3/4 teaspoon salt
1/2 teaspoon fresh-ground black pepper
4 teaspoons red wine vinegar
1/2 pound mixed salad greens
3/4 cup loosely packed basil leaves, torn in half
3/4 cup loosely packed flat-leaf parsley leaves
1/2 cup loosely packed mint leaves
1/4 cup chopped fresh chives
4 teaspoons drained capers
1 cup of fresh, sliced strawberries