There are many changes that our body goes through as we get older. For some people, one of the biggest changes is their smile. It's not uncommon for seniors to lose their teeth and while it can come as quite a shock, fortunately, they can be replaced.
Dental implants are an easy and effective solution for any senior who has suffered tooth loss or decay. They are a permanent and natural fix to missing teeth. Dental implants can help restore your perfect smile!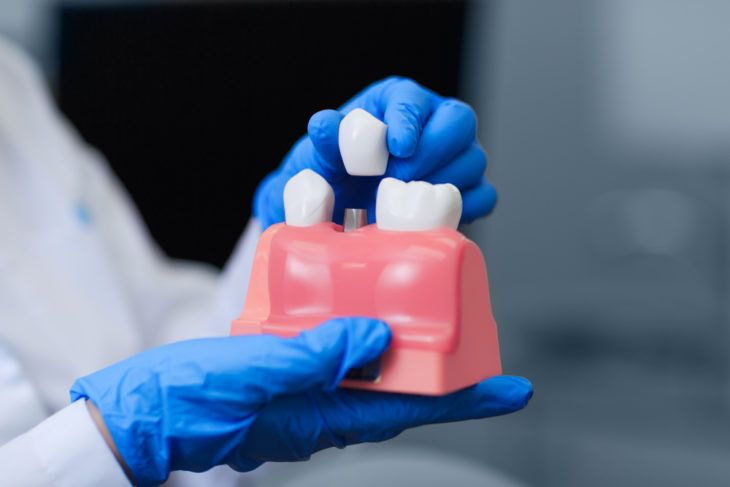 One of the biggest benefits of dental implants is that they can also restore your confidence. You will be able to smile with confidence, eat normally, and because they are so natural looking and feeling, no one will even notice they're there, including you! As long as you practice good hygiene and keep your mouth, gums, and implants healthy, they will last a lifetime.
What are Dental Implants?
Dental implants are replacement teeth created to look and feel like the rest of your natural teeth. Once a dentist has carefully examined your head, jaw, and teeth, an artificial root made from titanium metal will be drilled into a socket in the jawbone beneath the gum tissue. These titanium rods are completely secure because as the tissue heals, the implant bonds and becomes attached to the gum, writes the Canadian Dental Association (CDA).
Once the healing is complete, your dentist or specialist will attach an abutment to the implant. This abutment connects the replacement tooth to the implant. In some cases this stage will be done at the same time as the first. It's that simple. Finally, after these two steps are complete, an artificial tooth is attached to the abutment so that it is permanent and naturally in place with all of your other teeth.
Once everything is secured into place, the dental implants don't ever have to be removed. Your new teeth will last a lifetime. Unlike other similar solutions to missing teeth, dental implants are low maintenance. While you still have to take proper care of your oral health with regular brushing, flossing, and visits to the dentist, they never need to be resized or adjusted. Your new teeth fit perfectly and securely to your jaw. Once the procedure is complete, these new teeth will act and function just like your other teeth giving you the most natural experience possible.