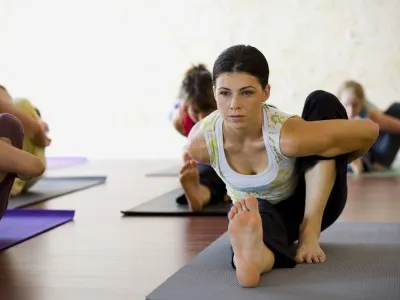 A new review of 37 studies involving roughly 3,000 people has found that yoga may be able to help in the fight against heart disease.
The review, which was carried out in the Netherlands, found that people who participated in yoga on a regular basis lowered their risk of heart disease by avoiding high blood pressure and high cholesterol.
Yoga, which is considered a muscle strengthening exercise, comes in many different forms: Hatha, Ashtanga, tantric, etc. Generally speaking, it's not intensive enough to count towards the aerobic activity prescribed by government health officials, but it could have many other benefits.
Dr. Myriam Hunink, a professor at Erasmus University Medical Center in Rotterdam, recently examined links between heart health and yoga. She found that, when compared with people who engaged in no exercise, people who regularly participated in yoga had a lower risk of obesity, lower blood pressure, and lower cholesterol levels.
The review, which has since been turned into a report published by the European Journal of Prevenive Cardiology, shows that yoga is similar to brisk walking and jogging in its health benefits.
Hunink believes this is evidence that yoga has significant health benefits and should be studied in more detail. "These results indicate that yoga is potentially very useful and in my view worth pursuing as a risk improvement practice," Hunink said.
Maureen Talbot, a UK-based senior cardiac nurse, recently talked to the BBC about the review and the health benefits of yoga. Like Hunink, she believes there needs to be more research investigating yoga's health upside.
"The benefits could be due to working the muscles and breathing, which can bring more oxygen into the body, leading to lower blood pressure," Talbot said. "A larger study is recommended … to assess the effects of yoga more fully."