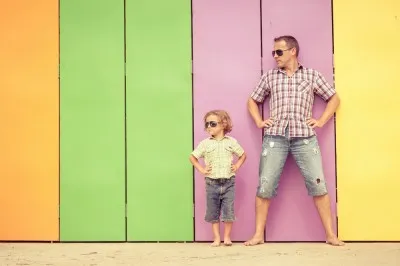 The "Dad bod" is a real thing, according to a new study which finds that men can expect to gain a few pounds with the birth of a child.
The study, which was led by Dr. Craig F. Garfield of Northwestern University, involved an examination of data collected on over 10,000 men over a 20-year period. The information was gathered through the National Longitudinal Study of Adolescent Health, with most men tracked between their teenage years and mid-thirties.
The study revealed that men with children tended to have an eight per cent higher body mass index (BMI) score than childless men. For someone who's 5'10" tall and about 175-pounds, that means they can expect to gain about 4-pounds after the birth of a child.
Of course, men aren't the only ones who gain weight in this situation. Previous studies have revealed that, following childbirth, mothers typically gain about one to 3-pounds more than their childless peers, and that weight gain increases with each additional child.
There's reason to be concerned about this, as a number of studies have shown that the children of overweight parents are more likely to struggle with their own weight. In fact, one study showed that, in a family where the father was obese, his children were 15 times more likely to be obese as well.
"New dads are coming into the healthcare system as a pediatric chaperone," Garfield said. "This is an opportunity to talk about things that are important for dad's health and the child's health and to offer dads nutritional counseling and mental health education."