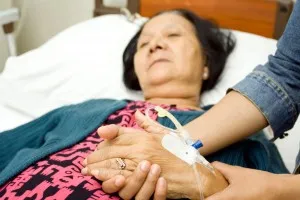 The recent meningitis outbreak is the cause of a rare secondary illness called an epidural abscess. The meningitis drug was contaminated with a fungus, and this fungus is present in the new infections.
Over 400 people in the United States were made sick from the contaminated drug. St. Joseph Mercy Hospital in Ann Arbor, Michigan has had one third of their 53 meningitis patients coming back with the epidural abscess.
The abscess can cause meningitis. It presents only one symptom- pain at the site of injection. The abscesses form around the bone and cannot be seen from the skin. An MRI scan is needed to see the extent of the infection. In most cases, the abscesses can be drained through surgery. In rare instances, they can develop around nerves and are impossible to be surgically removed. In those cases, a cocktail of anti-fungal and antibiotic drugs are prescribed.
This particular fungal infection is causing concern because it is not responding to anti-fungal drugs. The containment in the initial outbreak and now found in the infection is a black mold called Exserohilum.
This secondary infection is not the only complication patients are dealing with. Another problem has been arachnoiditis, which are inflamed nerves that cause pain, incontinence, and numbness.
Dr. Tom M. Chiller, deputy chief of the mycotic disease branch of the CDC has said that they don't know how many people infected from the meningitis outbreak will develop this secondary infection. "We don't have a good handle on how many people are coming back. We are just learning about this and trying to assess how best to manage these patients. They're very complicated."
He added that, "Unfortunately, we know from the rare cases of fungal meningitis that occur, that you can have complicated courses for this disease, and it requires prolonged therapy and can have some devastating consequences."
Source: NY Times