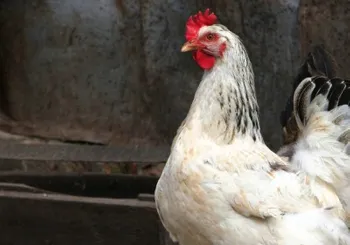 There's a growing crisis facing America's turkey farmers: the spread of a virulent, deadly virus known as the avian flu. The
widespread issue
is forcing turkey producers to impose costly quarantines and eliminate countless birds.
The issue is most visible in Minnesota, the United States' largest turkey-producing state. Each year Minnesota turkey producers process about 46 million turkeys, but this year they've already had to euthanize about half a million birds and quarantine many more. At this point, it's not clear if that strategy is working.
It's believed the virus spread to the United States from Canada, possible on the feathers and feet of Canada geese. Outbreaks of the virus were reported in British Columbia, on Canada's west coast, in December 2014. (Since that time almost a quarter of a million turkeys and chickens have died or been destroyed in B.C., according to the Canadian Food Inspection Agency.)
Within weeks cases were being reported south of the border, in Idaho, Washington, and Oregon.
Now, the virus is spreading fast. It can be found in Arkansas, Kansas, Missouri, Minnesota, South Dakota, and California.
The good news is that, according to the Centers for Disease Control and Prevention (CDC), humans rarely acquire the avian flu. And at this point experts believe the outbreak will peter out before it can have an impact on the holiday season.
Still, the avian flu can be devastating to turkey producers, says Cargill spokesman Michael Martin. "One of our contractor's barns had 2,000 turkeys in it, and within 48 hours, only 20 were alive," Martin said.
To prevent the avian flu from spreading, producers must destroy entire flocks–a devastating option.