Spring is just around the corner, which means it's prime time to lighten up your meals with these health-conscious dinners that weigh in under 500 calories…
1. Turkey Ginger Lettuce Wraps
285 calories
Based on a popular Asian dim sum (or appetizer), you can rediscover fun with food when you roll up a few of these delicious turkey ginger lettuce wraps. Make them a meal by serving with brown rice or a bean salad on the side.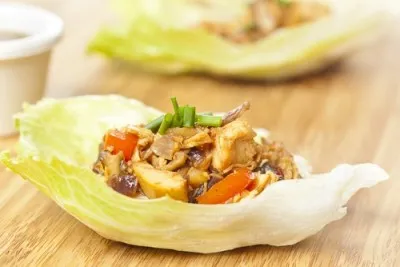 Recipe:
Bring water to a boil in a small saucepan. Add 1/2 cup instant brown rice, reduce heat to low, cover, and simmer for 5 minutes.
Heat 2 teaspoons sesame oil in a large nonstick skillet.
Cook 1 pound 93%-lean ground turkey, 1/2 cup chopped fresh herbs (your choice of cilantro, basil, mint) and 1 tablespoon minced fresh ginger for 6 minutes.
Stir in the cooked rice, 1 diced bell pepper, 1 shredded carrot, 1 can water chestnuts, ½ cup low sodium chicken broth, 2 tablespoons hoisin sauce, five-spice powder and ½ teaspoon salt; cook 1 minute.
To serve, separate lettuce leaves from 2 Boston head lettuce among plates, spoon in turkey mixture, and roll into wraps.