Rather than purchasing yet another box of pricey processed energy bars from the grocery store, fuel your body and soul with the goodness of the following nutritious and delicious do-it-yourself energy bars that you can make right at home.
The following ten energy bar recipes offer something for vegans, raw foodies, gym rats, runners, and just mid-day snack attackers. Trust me; they contain the perfect ingredients to help you refuel and revitalize your busy day…
1. Peanut Energy Bars
This carbohydrate-rich bar is packed full of nuts, seeds, fruit, and oats. They make the ideal great grab-and-go breakfast, snack, or post-workout nosh.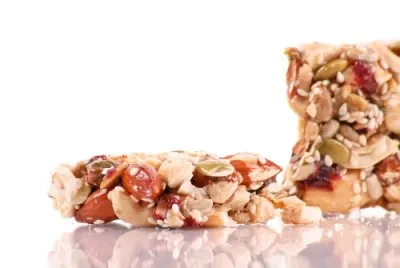 1. Coat a 9-by-13-inch baking pan with cooking spray.
2. Combine ½ cup peanuts, ½ cup sunflower seeds (or other nuts), 2 cups raisins (or other dried fruit), 2 cups rolled oats, 2 cups rice cereal and ¼ cup wheat germ (if using) in a large mixing bowl.
3. Combine 1/2 cup natural peanut butter, 1/2 cup brown sugar, and 1/2 cup wildflower honey in a large microwaveable bowl and nuke on high for 2 minutes.
4. Add 1 teaspoon vanilla and stir until blended.
5. Pour the peanut butter mixture over the dry ingredients and stir until coated.
6. Transfer the mixture to the prepared pan and press down firmly.
7. Let stand for about 1 hour to harden then cut into individual bars.